For the SEND service it will be business as usual as they continue to work in support of their statutory duties including consideration of requests for EHCNA, requests to issue an EHCP, actioning of Reviews of an EHCP, consultations with educational settings and support for transitional arrangements over the summer school holidays. The team are just a phone call or email away – do get in touch via sen.team@cognus.org.uk or call 020 8323 0454
———————————————————————————————–
Virtual School
Sutton Children Looked After ESOL Summer School is running two days a week for four weeks to support Sutton's newly place unaccompanied asylum seeking young people to gain language skills and to prepare them ready for college courses in September.
Sutton Children Looked After will be visiting the Arvon Learning Centre in Yorkshire for a week's writing residential course to help develop creativity, confidence and a love of writing, hopefully taking this forward into their future education.
Sutton Virtual School in collaboration with the Children in Care are running a summer Funday on 19th August between 12.00pm and 3pm, and are hoping as many of our Children Looked After, Care Leavers and foster carers can join us for this fun filled event.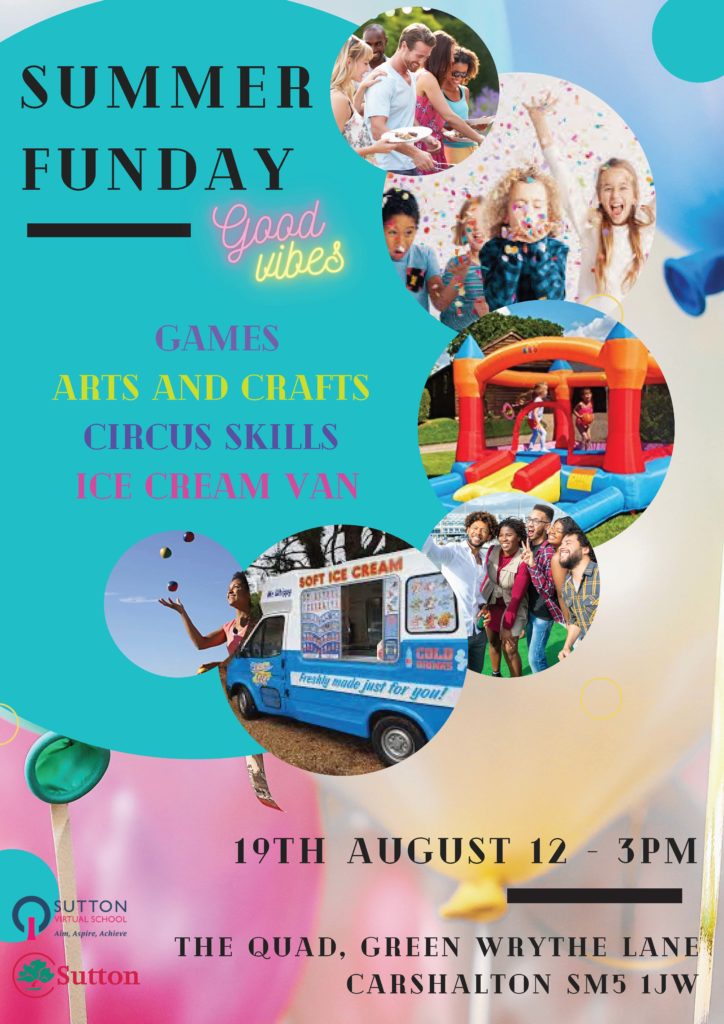 ———————————————————————————————–
Sutton Music Service
Summer Theory Booster Classes
When: 23 – 27 August
Time: 09:30-10:30 Beginner Theory / 10:45-11:45 Intermediate Theory
Cost: £50 per group, per week
These two courses are designed to get you ready and up to speed for theory classes or exams from the Autumn term.
Beginner class: This class is ideal for anyone who has recently started playing a musical instrument, who wants to learn more about music theory, or who wants to take their grade 1 theory exam in the Autumn term.
Intermediate class: This class is suitable for students who have taken grade 1 or 2 theory exams and are ready for grade 3. This is also for students at secondary school who are considering doing GCSE music. These classes will also provide you with a stepping stone to get ready for taking that all important grade 5 theory exam in the future.
You will be able to take these classes from the comfort of your own home as they will be delivered online via Microsoft Teams. These sessions will be led by SMS Tutor, Alice Martin. Alice was previously a Director of Music and Head of Academic Music at numerous independent and state schools and is also an experienced GCSE and A-Level music tutor.
Summer Jazz Workshop
Following on from the popularity of our online course Jazz It Up over the Easter holidays, SMS are delighted to announce we are running a pair of 3-day jazz workshops. These will be led by SMS tutor Freddie Meyers, who from September will be starting a new role as composer-in-residence at Eton College.
Junior Jazz Workshop
Working together closely with other young musicians, well start to explore what improvisation is and how you go about making music up, on the spot. This course is suitable for anyone from Grade 2-4 and you don't ever have to have played jazz or improvised before. We'll listen to some different styles of jazz and learn how different jazz scales can be used to take the guess work out of your first solos. Get ready to start making your own music!!
Senior Jazz Workshop
To really understand jazz, you have to do jazz. As part of the senior jazz workshop, we'll come together as small jazz ensemble, exploring what it's like to make live jazz together. We'll learn some jazz standards and you'll see first-hand how soloing fits in when you're performing this type of music. Players should be Grade 5+ and it'll be useful if you listened to and played some jazz before; however, if you come with an open mind, we'll catch you up quickly.
When: 2-4th August.
Where: Creative Room, Cognus offices, 24 Denmark Road, Carshalton, SM5 2JG.
What time: 10:00-12:30pm Junior Jazz Workshop (grades 2-4) / 13:30-16:00 Senior Jazz Workshop (grades 5+)
Cost: £50 per pupil, per group
Please note if there are insufficient sign ups, the sessions will not be able to take place.
———————————————————————————————–
Autism
Are you a parent/carer looking for some additional ideas or strategies to support your child?
The Autism Service at Cognus will now be running termly virtual advice sessions (one for schools and one for parents, although you can of course arrange to attend virtually together).
If you would like to express your interest, email emma.windall@cognus.org.uk and she will be in touch offering you a 30 minute slot, if there is availability.
———————————————————————————————–
Paving The Way and Sutton Music Service Partnership
There is a fantastic opportunity to join the Paving The Way team and Sutton Music Service to make some noise. You are eligible to join this if you have previously worked with PTW, are currently working with PTW, or are on the PTW waiting list.
If you are interested, please do contact earlyintervention@cognus.org.uk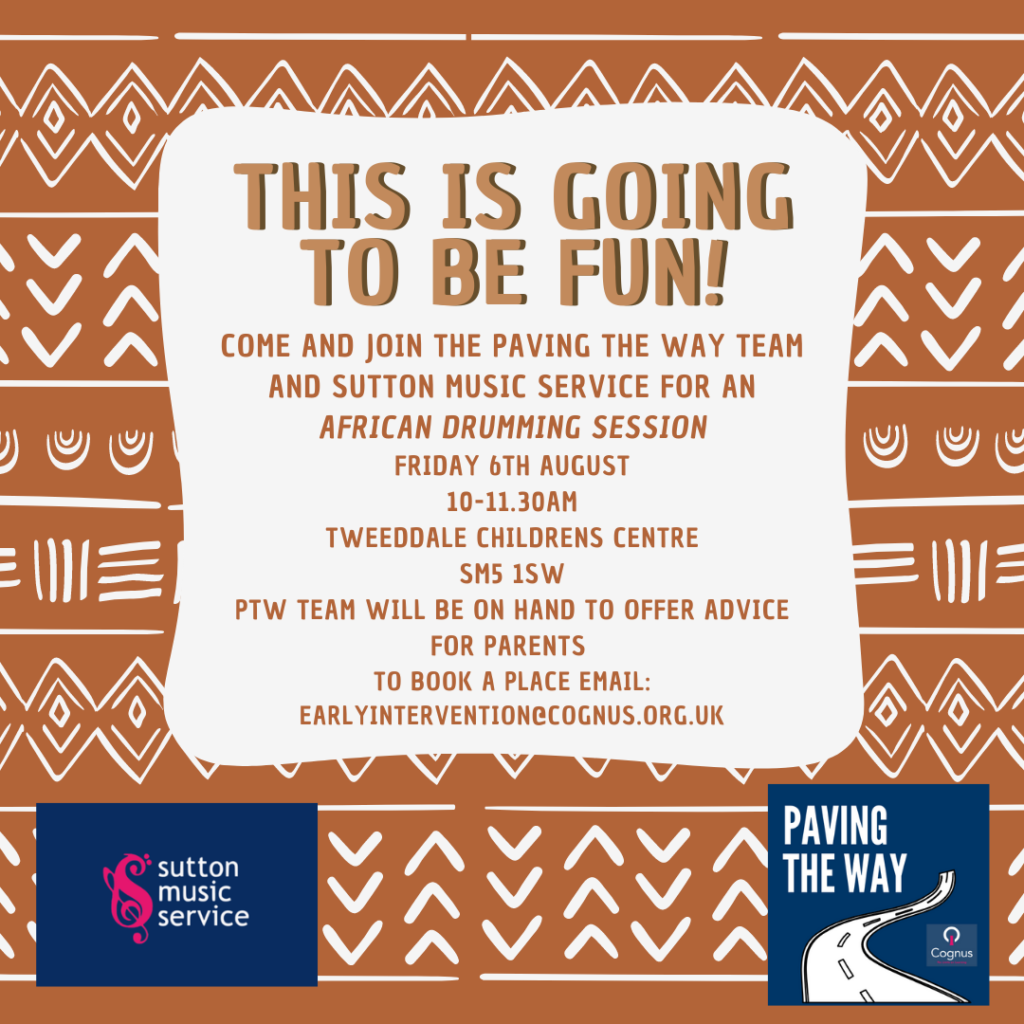 Paving the Way and Leo Academy Summer School
The Paving the Way team will be working with Leo Academy Trust during the summer holidays to provide workshops for vulnerable children across the borough to support their emotional health and wellbeing.
The workshops will be fun for all the family and will provide a safe space to relax and let off some steam whilst learning some positive skills and strategies to use at home and at school.
The team will also be available to provide advice and support for parents/ carers on a number of challenges their children maybe experiencing e.g. attention and concentration, social communication, anxiety.
Paving the Way also provide other activities for families referred to our service past and present during the holidays.
All activities can be found by following the link: Upcoming Workshops – Cognus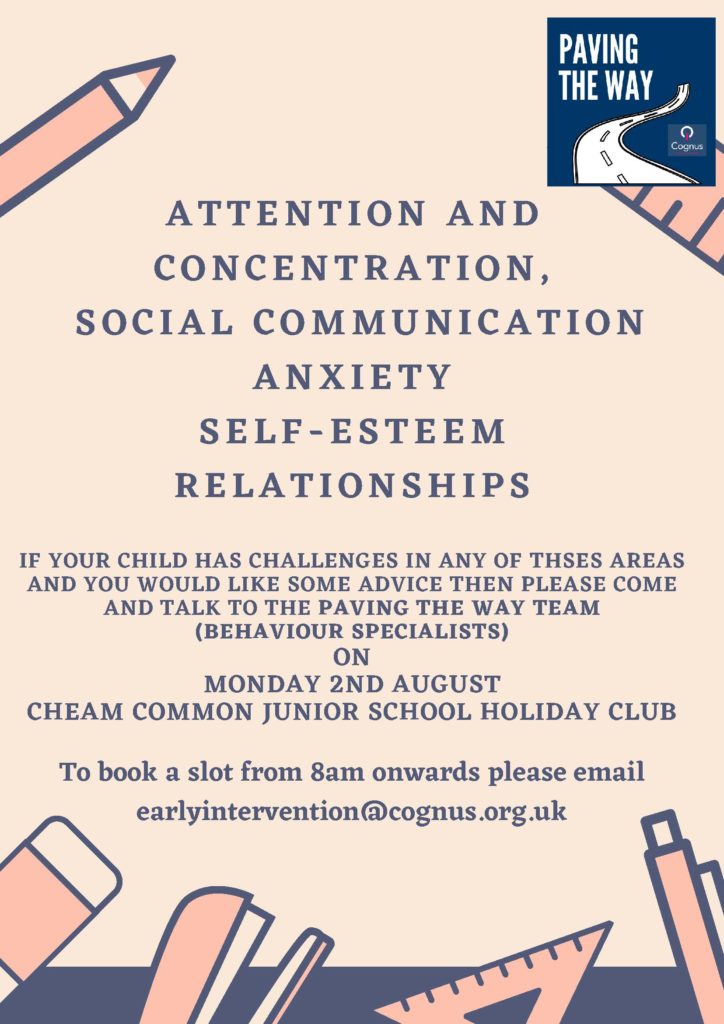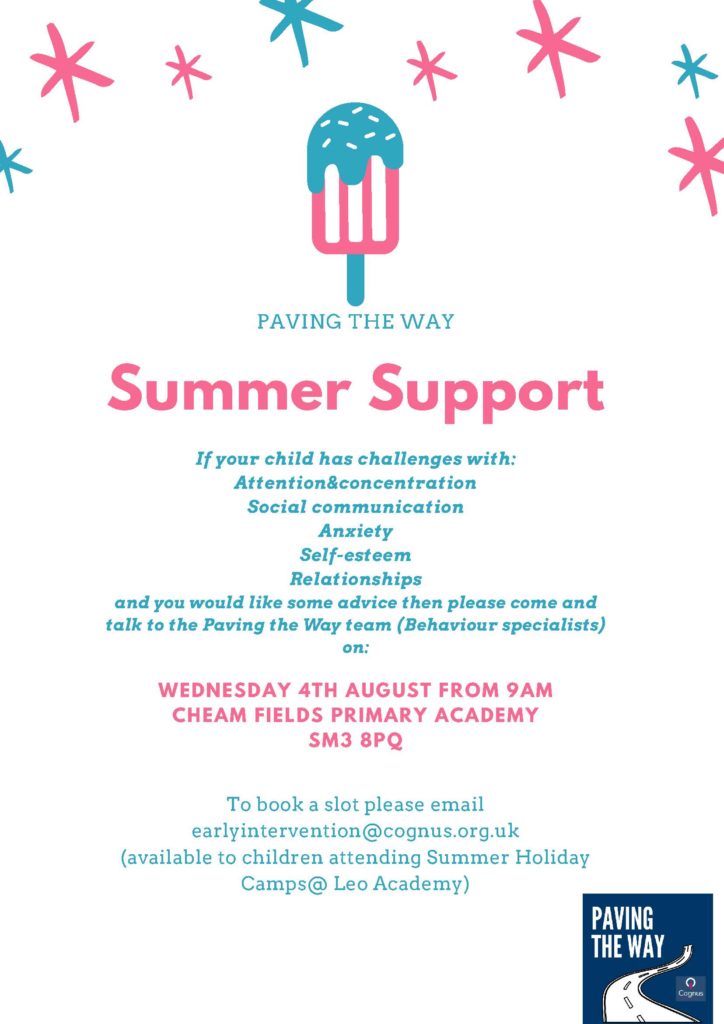 Paving the Way and Homestart
Home-Start Sutton is a voluntary organisation committed to promoting the welfare of families with young children.
They provide unique, needs led, responsive support to Sutton children and families.
Families currently accessing the Home Start family group service in Sutton will be able to seek advice and support from Paving the Way for their children who may be experiencing anxiety, social communication and attention difficulties. This support will be available from members of the team on Monday 19th July pm at Horizon Church and Thurs 29th July pm at Vineyard Church
For more information contact earlyintervention@cognus.org.uk
———————————————————————————————–
If you're looking for some activities for your children and young people over the Summer, Volunteer Sutton, Sutton Council, Community Action Sutton and Home Start Sutton have put together a great list of things to do, which you can take a look at via the link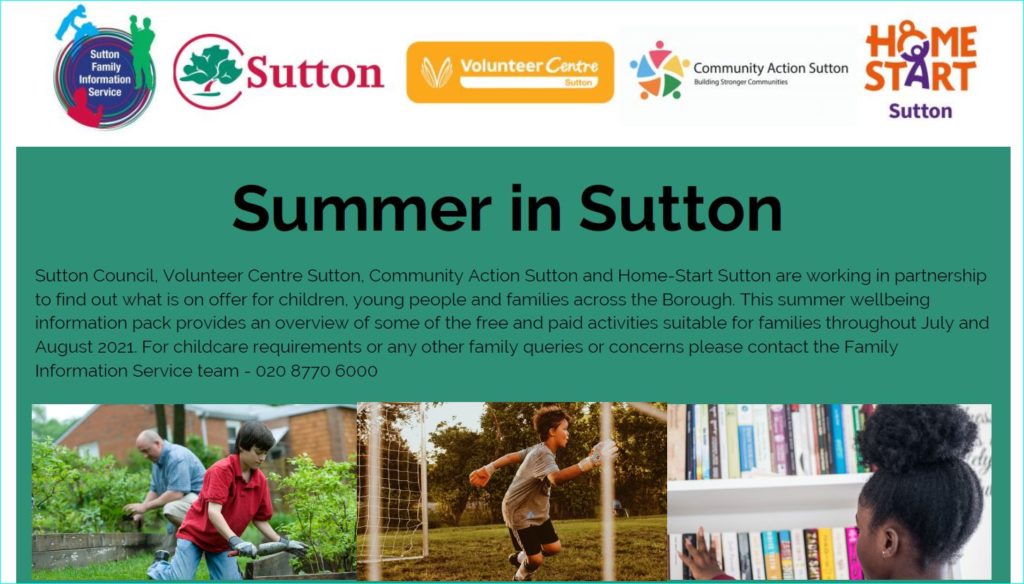 ———————————————————————————————–
Nationally – Department for Education
The Government's Holiday Activity and Food Programme has been expanded to run during the summer Find out more about the Holiday Activities and Food programme – GOV.UK (www.gov.uk)
The Government's "Rediscover Summer home activity booklet" provides primary school age children with free and fun ideas and activities to do, both at home and outside, with friends and families this summer.
Oak National Academy has put together a summer learning support package of entirely optional lessons and resources, to help save teachers' time, reduce their workload and give the best possible support to pupils. Oak's Summer Learning Support offer includes:
EYFS – Y11 priority units and lessons identified in English, Maths, Science, Geography and History to help prepare pupils for the next academic year
Newly designed quizzes at a unit/topic level, to act as a formative tool in identifying gaps in knowledge
Creative, active and mental health resources from a range of partner organisations for vital wellbeing support
A full package of detailed guidance for teachers, parents and pupils, including our Summer Learning Support Guide and Priority Lesson Guide.