Aims:
Independence with everyday life skill tasks and occupations in line with peers
Independence with self-care activities required in, and to access learning provision i.e. dressing, feeding or toileting, travelling and community skills.
Able to follow and manage the day/weekly routine
Use of every day tools and materials within functional activities independently i.e. knife and fork, can opener, vegetable peeler
Demonstrates safety awareness during functional tasks
Ability to notice/respond to environmental cues/ information
Able to problem solve during activities
Able to sequence everyday tasks in a logical order
Organise personal belongings required for learning activities
Organise tools and materials required for workspace
Occupational Therapy – Focus on Life skills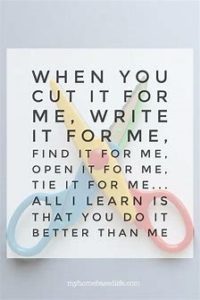 Life skills are skills we use in everyday activities that form part of our routine. There are daily opportunities for children and young people to learn and develop life skills from all the activities they partake in. Learning life skills is an important part of development. There are different life skills children and young people participate in depending on their life stage. Life skills include self-care skills (such as dressing or grooming), domestic skills (such as meal preparation and cleaning), community skills (such as travelling and shopping) and safety awareness. Practising and learning life skills prepares children and young people for adulthood and improves their independence and self-confidence.
Top tips for teaching a child or young person a new life skill using washing up as an example:
Washing up using backward chaining
Backward chaining first involves breaking the task down into the same sequence of steps (activity analysis) to be practiced each time.
Adult complete the whole washing up task with child or young person watching (modelling/demonstration)
Next, child or young person completes the last step of the task i.e. putting items away, for which you give prompts with as required
Next, child or young person completes the last 2 tasks such as drying the dishes and putting items away.
Procedure is repeated until child or young person is completing the whole task
Use the prompt hierarchy to gradually fade away the support provided to a child or young person with each step. Once they begin to understand the activity, begin waiting longer between prompts. This helps to develop independence and keep the prompting from becoming a permanent part of the activity.
When teaching, give the child or young person as much support as they need to learn the task successfully. Error-free learning helps them to do the task correctly from the beginning.
Resources:
ASDAN is an education charity who offer free resources to educators, parents and guardians with home learning and educating around essential life skills. You will need provide your details in order to download all of our free home learning and educating resources: https://www.asdan.org.uk/resources/free-resources
Kent County Council Trading Standards have developed free life skill resources to support young people with special educational needs to learn the skills to live safely and independently and reduce the risk of financial harm: https://www.kent.gov.uk/leisure-and-community/consumer-protection/trading-standards-free-life-skills-resources#:~:text=Trading%20Standards%20free%20life%20skills%20resources%20This%20educational,living%20to%20reduce%20the%20risk%20of%20financial%20harm.
Barclays offer free resources for people to develop the skills, knowledge and confidence they need for work with tools, tips and learning resources: https://barclayslifeskills.com/?campaign=Google_RS-2018_Barclays_Lifeskills_Brand_Exact&chnnl=PSB&gclid=CjwKCAjwgOGCBhAlEiwA7FUXkh6g9PtmqOJJMs0V4XAVQnn6BMb0ucwDnfLlCDcZQkpYKVWSJX2dHxoCx3IQAvD_BwE&gclsrc=aw.ds
Accessible Chef is a collection of free visual recipes and other resources to help teach cooking skills to individuals with disabilities: https://accessiblechef.com/
A free resource on how to implement backward chaining: https://www.nhsggc.org.uk/kids/resources/ot-activityinformation-sheets/backward-chaining-information-sheet/