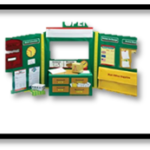 Imaginative play and communication skills: Pretend to be a post office shopkeeper. Decide on the cost of the items. Can they make signs with price using numbers 1-10? Turn-take to develop play skills and sharing.
Maths – estimating, sorting and using mathematical language: Find some small items to weigh. Can they estimate the weight, sort describe and compare items? Which are heavier/ lighter/ smaller/larger?
Developing fine motor skills: Invite your child to wrap parcels – using scissors, Sellotape, string and the play money in the pack
Developing Early Writing: Pretend to write letters to post. Any mark-making or attempt to form letters is great. Can they write their name?
Money: talk about and name the coins. Can they count out 5 pence? Model or help your child to count small amounts to 'pay' for items.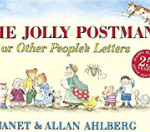 There are lots of opportunities to discuss the stories here! Who might the next letter be for?  Which words tell us what the characters are like? (e.g. the 'wicked' witch)
Can they identify the rhyme scheme in the book? Which words rhyme?
Invite your child to write their own letter! It could be like one in the book or to someone they want to write to.   Click here for a template you could use.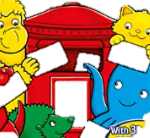 Communication and Language: Invite the child to look inside the pack. What do we need to do?  How do you know?  Which colour might this letter be?  Do you think there are any other blue ones left? Why?
Colour recognition: Can your child name and group the letters by colour?
Maths: how many letters are there? Can you write the number in the air with your finger? Are there the same, more or less of the red than yellow? Can they match the letters with the right boxes?
Developing fine motor skills: Invite your child to help set up the post boxes and post the letters through the corresponding colour boxes. Can they design and make their own?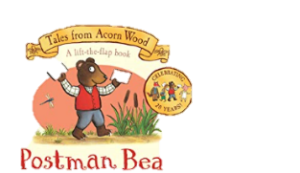 Before reading the book, invite your child to say what it might be about. What clues are there?
During reading, point out the rhyme scheme and on the next page, ask if they can listen and spot the next rhyming word (emphasising it when reading if necessary)
Who do you think this letter might be for? Who might live here?
Invite your child to lift the flaps. At the end, ask what they liked about the book.