Project 4 Youth Empowerment
Assists people affected by or in danger of being affected by a range of issues such as serious youth violence, school exclusions or those who are NEET (not in education, employment or training). This support comes in many forms including offering advice, advocacy, one on one or group mentoring, or signposting to other professional services. For more information please visit the P4YE website.
P4YE NEETs Engagement Project Referral form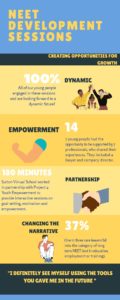 This infographic is also available in audio format – https://youtu.be/Q3aULjNOk2M
Here is what our young people and their families have thought of P4YE so far.
"Thank you for the online sessions and I enjoyed it greatly. I definitely see myself using the tools you gave me in the future."
"This is a step in the right direction, so thank you all for your support in making this come to fruition. This is exactly what she needed."