Sutton Virtual School now working to support Children with a Social Worker
On 1st September all Virtual Schools in England received new duties related to Children with a Social Worker.  At Sutton Virtual School we are so excited about the opportunity to work with this group of young people in addition to the work we do to support Children Looked After and Previously Looked After and improve to educational outcomes.  We are pleased to announce that we have appointed Sara Martin to role of Virtual School Deputy Headteacher to lead the strategic development related to the new responsibilities and have also appointed Beverley Noble, who is a social worker already working in schools to help further strength the links between education and social care.  We have also consulted widely with schools and local multi-agency partners about the needs and gaps for Children with a Social Worker and are looking to soon launch a tangible offer of support that schools and social workers will be able to access to support our young people.  If you wish to find out more please visit our website https://www.cognus.org.uk/suttonvirtualschool/schools/supporting-children-with-a-social-worker/
ESOL Summer School
A huge congratulations to the young people who attended the ESOL Summer School – it was a great success!
All of the young people fully engaged with the fun activities, such as music, sports and on the bowling trip.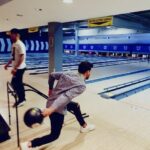 We are very impressed with the progression of their English skills, which demonstrates their dedication and commitment to learning.
Enrichment Engagement
 We would like to say a HUGE THANK YOU! To all of the families, children and young people, who attended our enrichment activities. Your presence made them thoroughly enjoyable and memorable! We are already busy planning more exciting activities for this academic year and look forward to more exciting times. Please take a look here for updates regarding future events.
Supporting Care Experienced Young People into University
Isabelle Kirkham is a care experienced young person who has just graduated from University.  In this recorded live session, Isabelle discusses her education journey and answers questions from carers, young people and Moira from Sutton Virtual School.  Moira introduces the session with information about qualification routes to University, course choices and the support offered by Sutton Virtual School and the local authority. Watch the session here.
Aspiration Library
We are very pleased to launch our Aspiration Library, which seeks to support Sutton young people, in identifying a career to progress towards, as we understand that this can often be difficult. We will regularly update this page, with a range of resources to support you in your decisions, including aspirational careers videos and profiles, from individuals sharing their education and career journeys. We are very pleased to share Mushari – a Sutton care leaver's journey to becoming a radiographer here.
New Podcast Episodes
 Sutton Virtual School collaborated with a Natalie, a Sutton care leaver to create a podcast story, which aims to empower care experienced young people to engage with education and employment. Listen to Natalie's journey so far here.
A positive insight into what we do!
At Sutton Virtual School, we work hard to create successful outcomes for the children and young people that we support. View our snapshot into the high quality and dedicated support that Donna Spiller our SEN Specialist Education Advisor has implemented to create positive outcomes for a Sutton child here.
Executive functions: emotional control and response inhibition
 'Emotional control' is the capacity to manage emotions and feelings to respond appropriately. 'Response inhibition' is the capacity to think before acting. Some children or young people may have difficulty in one or more of these areas. This video will you with activities and examples to be able to teach a child or young person about emotional control and response inhibition and provide a reflective space to consider strategies to support.
Sutton Virtual School Walk to Calais – update
Sutton Virtual School showed support for Refugee Awareness Week (14-17th June) by logging team miles to support the Walk to Calais event.  A team challenge took place across Sutton to ensure there was an element of healthy competition between the many Sutton services.
As Refugee Awareness Week has passed so has the #SuttonWalksToCalais challenge. Sutton Virtual School finished in style, completing in total, an amazing 418 miles! We definitely made it to Calais and were well on our way through Europe, past Belgium and into Germany where we 30 miles from Frankfurt! We may be small but our eight person team is mighty placing us third overall within the rankings, phenomenal team effort. Collectively all teams walked, ran and cycled over 2600 miles and we raised an incredible £431 (+ est. £86.50 in Gift Aid) which will go to the Refugee Council so they can continue the work they do supporting asylum seeking young people.
Upon completing the challenge it is important to reflect on:
Was completing the challenge with others a motivation?
Did it make the challenge easier?
Did you feel as part of a collective or connection?
What was it like to have a shared experience with someone?
#WeCannotWalkAlone
University offers for Sutton Care Leavers:
We are delighted that the following Sutton Care Leavers have received offers from Universities this year:
OH – St. Catherine's College, Cambridge and UCL – Chemical Engineering
MM – University of Liverpool and St. Georges, London – Therapeutic Radiography
We wish them the best of luck with their exam results and hope that they get their first-choice university in August.
E-Safety Online Training
Well done to the children who attended the Virtual School E-Safety training with Bianca and Steve, we hope that they have learnt lots of helpful information that will help to keep them safe online.
Music production
We would like to recognise the excellent work of the five students who participated in the virtual music production workshop over the February half term. Read all about it and hear a sample of their work here
Sutton Virtual School Annual Report
The Sutton Virtual School Annual report 2020 was recently released and highlights the progress that Sutton Virtual School has made within the past year to support our children and young people in education.  Please have a read of our report here or alternatively watch the short summary video.
Trauma & Executive Functioning Video Series 
All six 10-minute videos to support our children and young people with executive function difficulties (attention, emotion control, response inhibition, etc) are now live. These videos provide a host of fun activities that can be used at home and in school. To view, please visit our website.