We are really pleased to be working with Solent University and their Step into Success Programme. Step into Success gives learners in years 5 to 13 the chance to access a great variety of activities, events and competitions, designed to instil a passion for learning and to raise their aspirations for the future.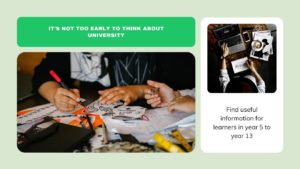 Solent believes every young person with the ability to succeed should be able to take advantage of the benefits of higher education, whatever their social background.
Step into Success gives young people from disadvantaged backgrounds a chance to see the opportunities a university education can open up for them.
The aim is to enable learners to integrate themes around careers, progression and higher education with the maths, science and English curriculum. We have on- and off-campus delivery options (subject to availability) which serve to demonstrate the links between education and future life choices.
Over the next academic year, we will be working with Solent to offer Sutton's Children Looked After and their carers the opportunity of engaging with various activities including a campus visit. In the meantime, please have a look at the huge variety of workshops, most of which are pre-recorded engaging videos.  A simple sign-up is required.
Please follow this link to find workshops for young people in year 5 – year 13.
www.solent.ac.uk/school-college-partnerships/step-into-success
In addition, Solent University is hosting two "Get Ready for Uni" events which we would encourage you to explore.
A Refugee and Asylum Seeker Student's Perspective
Wednesday 19 May, 4.30-6pm
Solent University has committed to becoming a University of Sanctuary. The Universities of Sanctuary is an initiative to recognise the good practice of universities which welcome people seeking sanctuary, including refugees and asylum seekers, into their communities and seek to foster a culture of awareness and inclusivity.
This event aims to inform and support refugees and asylum seekers interested in studying at a University, as well as community groups, volunteers and professionals who work with people seeking sanctuary.
The event will provide you information about:
• how our University of Sanctuary status application can positively impact those wishing to apply to Solent
• the scholarships and bursaries available
• how to apply and what students can expect from the university once they do apply.
Find out more about the Solent University Sanctuary scholarship.
A Care Experienced Student's Perspective
15 June 2021, 4.30-6pm
Wherever your learners are in their university application journey – whether they're looking for a course, still need to register with UCAS or exploring accommodation – they don't need to panic, our Get Ready for Uni series can help.
All they need to do is register and join our virtual events that aim to give them a fuller understanding of Solent University, the support available and what it means to study here from a specific student's perspective.
The session will include a personal journey account and an opportunity to participate in a questions and answers (Q&A) session with our specialist panel.
LEARNERS CAN BOOK HERE