We are really pleased to be working with Solent University and their Step into Success Programme. Step into Success gives learners in years 5 to 13 the chance to access a great variety of activities, events and competitions, designed to instil a passion for learning and to raise their aspirations for the future.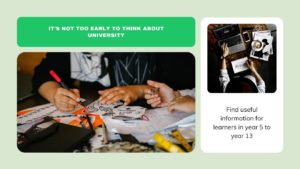 Solent believes every young person with the ability to succeed should be able to take advantage of the benefits of higher education, whatever their social background.
Step into Success gives young people from disadvantaged backgrounds a chance to see the opportunities a university education can open up for them.
The aim is to enable learners to integrate themes around careers, progression and higher education with the maths, science and English curriculum. We have on- and off-campus delivery options (subject to availability) which serve to demonstrate the links between education and future life choices.
Over the next academic year, we will be working with Solent to offer Sutton's Children Looked After and their carers the opportunity of engaging with various activities including a campus visit. In the meantime, please have a look at the huge variety of workshops, most of which are pre-recorded engaging videos.  A simple sign-up is required.
Please follow this link to find workshops for young people in year 5 – year 13.
www.solent.ac.uk/school-college-partnerships/step-into-success
LEARNERS CAN BOOK HERE