Sutton Virtual School is pleased to introduce Cubbie, the new mascot for Sutton Virtual School to our two and three year old Children Looked After.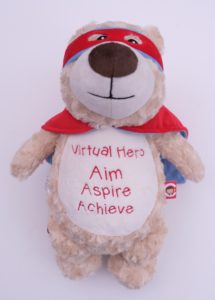 Sutton Virtual School feel it is important that we have a positive influence on the educational futures of all our children from the earliest age and are using Cubbie, our Virtual Hero to give the message "Aim, Aspire, Achieve", to inspire the children to work hard and become inquisitive about education and Sutton Virtual School.
We will be encouraging foster carers to ensure Cubbie  accompanies the children to their PEP meetings, so we can collectively share the positive educational message with the child and reinforce the importance of learning through play.
We are also asking foster carers for Cubbie to be present when reading at home and during other learning based activities, as play is proven in Early Years research to build the strong connections in the brain required for learning.