Social workers should click on the link https://secure.epeponline.co.uk/login  when using ePEP for the first time and click the green button 'CLICK HERE FOR FIRST TIME REGISTRATION' to sign in.
Social workers must complete Section A of the ePEP in advance of the meeting to update the core data and permissions related to the young person and give an update on the social care situation.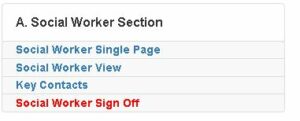 First click the 'Social Worker Single Page' section as shown below.  This will take you to a page entitled 'Personal Information' and should be updated to reflect the accurate situation for each PEP.
Then click on the 'Social Worker View' section and add information to update professionals on the young person's care journey since the last PEP and any specific priorities that need to be raised by the social worker to inform the educational planning in the PEP.

The final stage for the social worker is to click 'Social Worker Sign Off' and then click 'Mark Completed'.  This will alert Sutton Virtual School that the social worker has completed their section and will enable to PEP to be finalised after the other professionals have also signed off their sections.

At the PEP meeting, the inputs that the social worker has made will be discussed and form part of the educational planning process.
Please ensure that the social worker section is complete in advance of every PEP as this can cause significant delay to the allocation of Pupil Premium Plus funding if this is not complete.  It can also negatively affect the PEP meeting if information is missing, affecting the ability of professionals to plan effectively for the young person.
If you have any questions regarding ePEP, please contact the Sutton Virtual School liaison officer Karen Hopson karen.hopson@cognus.org.uk or eGOV on 03337720944