Cognus has a range of education specialists – teachers, psychologists and other practitioners – with an extensive knowledge and experience of all aspects of education. Our team of over 200 employees and associates can bring a wealth of experience to support professionals in schools and settings in and out of Sutton.
We take continuous professional development seriously – our skills are what we do – and our colleagues in psychology and therapies maintain full chartered and professional status.
We collaborate with and support teachers and other staff to manage and meet complex and changing needs, adopt best practice and build their professional experience and confidence.
We do this by:
Providing solution-focused consultations and modelling practice
Providing advice to guide and develop knowledge and understanding of a wide spectrum of needs, behaviours and education related issues
Providing training/CPD on a one to one or group basis, either during the school day or in twilight sessions
Providing resources to carry out interventions to support children and young people
Choose from our range of services on the left for more information on how our teams can support schools and professionals.
Our Traded services offer for 2023 and beyond can be viewed by clicking on the thumbnails below: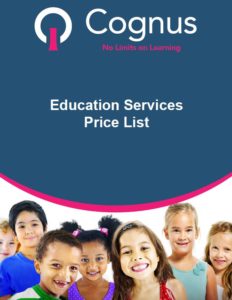 COGNUS 2023-24 Order Form (Word Version)
 COGNUS 2023-24 Order Form (PDF Version)
If you would like to talk to any of our services prior to completing the form, please contact the teams directly.