The Autism Service deliver one-to-one sessions with young people to support them in a range of areas.  Some sessions may focus on areas such as developing strategies to support emotional wellbeing, some may be more about problem-solving specific situations they face.  
The sessions are with an advisory teacher or lead practitioner with a range of qualifications including a Postgraduate Diploma in Education Mental Health Practice and a Masters in Autism and Education.  The benefits of this are that they have years of experience of working with autistic young people and can therefore adapt the way they communicate to suit the individual's preferences. 
The sessions usually take place in the school setting, but for some young people, this is just not suitable.  We are a reflective and adaptive team and so we try to tailor to the individual.  A good example of this is where a young person transitioned from one school to another and was not comfortable returning to his old school for the sessions, or having them in the new setting, which was seen as a fresh start.  Instead, we arranged to meet in a central location and combine fresh air, exercise, and exploring how he was feeling.  The sessions went well, and we were able to liaise with both the parents, the previous, and the new school, to ensure all parties were kept informed.   
Including movement and social environments in one-to-one sessions can provide additional benefits.  Going for a walk in nature not only gives the young person exercise and numerous wellbeing benefits, but it can also make conversation easier.  Walking side by side can be less pressured for autistic individuals, rather than sitting face to face.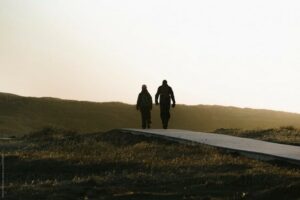 Likewise, parents would give the young person money so that he could buy a drink or a snack at the start of the session, meaning we were also able to practice social interactions in a supportive environment.  
Parents fed back, 'X has just got home and in a very good mood. Not sure what magic Rebecca knows, but I appreciate it.' 
Find out more about the Cognus Autism Service
Contact:  theautismservice@cognus.org.uk