Cognus ran a competition for Black History Month in the month of October, asking young people in Sutton schools to send in artwork of what equality, diversity and inclusion (EDI) meant to them. The competition had a great response with over 30 entries from primary, secondary and post-16 young people. Cognus' EDI group voted for winners in each category, and they received a voucher and as part of their prize their artwork is being displayed for the year in the Cognus office.
Through partnership working of Cognus and London Borough of Sutton Cultural Services; a two-week art exhibition was able to be displayed in Sutton Central Library for Race Equality Week 7th – 11th February and half-term 14th – 18th February. The exhibition was run alongside a mosaic workshop taking inspiration from fabrics and patterns from around the globe and was hosted by local artist Pia Jaime. The exhibition and workshop were well received by all who attended and a great opportunity for the young people to see their work on display.      
Following the success of the competition, Cognus hope to run this annually with the hopes of being able to become a yearly art exhibition in Sutton Central Library. 
The winning pieces of artwork are displayed below: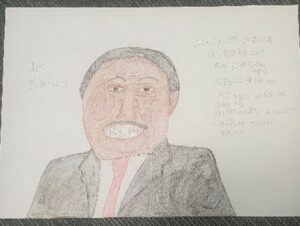 Winners from left to right: 
Primary – Devonshire Primary School, Secondary – Wilson's Boys School, Post-16 – Carew Academy