During the summer, Hayley Cameron, Education Safeguarding Manager, received confirmation of her Masters Award and Accreditation.  She achieved Master of Arts in Advanced Child Protection with Distinction.  Hayley started on this journey back in January 2019, after being accepted on to a 2-year distanced learning course with the University of Kent.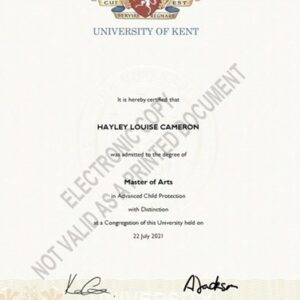 'I would like to express thanks to my family, friends and work colleagues for their continued support and encouragement over the last two years.  With particular thanks and gratitude to Alex Clark and Cognus, for providing me with the opportunity to step outside of my comfort zone, whilst doing something that I believe in and feel so impassioned about, even during a time of significant transition and change'.
Hayley decided to develop her own expertise after her involvement with the Ellie Butler case and the multi-agency response that took place following her death. The development of the Child Safeguarding Toolkit was highlighted and promoted throughout Hayley's dissertation.
'I would like to dedicate this work to Ellie Butler, who tragically lost her life in 2013 and also to her Grandfather, Neal Gray.  It was my way of trying to give something back, and to do all I could to raise awareness and to prevent similar tragedies from happening in the future'. 
The Child Safeguarding Toolkit is a unique resource which was developed by multi-agency partners in response to the learning from the serious case review that took place.  All resources are free to access and regularly updated.  Please take a look and use within your team meetings to enhance your own CPD and that of your colleagues. Together we can make a difference.