On Wednesday 26th April, Steve Welding (E-Safety Advisor) and Hayley Cameron (Education Safeguarding Manager) from the Education Safeguarding Team delivered training to 18 members of staff from The Change Foundation UK.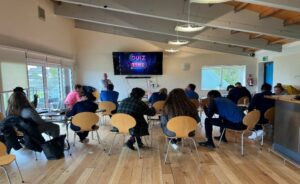 'The training educated our team on the legal and legislative changes to safeguarding procedures.  It also updated our team on the safeguarding resources that are available to them.  Thank you for delivering such a valuable session and for answering all our questions' (Staff member, Sutton The Change Foundation, April 2023)
The Change Foundation UK deliver target sports programmes to vulnerable, marginalised and under supported young people.  They design programmes to provide opportunities and support young people impacted by frequently developing social issues.  They work together with other charities, employers, and organisations to ensure the outreach of their programmes can support as many communities as possible.
For more information on The Change Foundation UK please visit the link below:
The Change Foundation – Changing the lives of young people through the power of sport
For further information on the training offer from the Education Safeguarding Team and the work they do, please visit the links below:
Meet the Safeguarding team – Cognus
Training Testimonials – Cognus
Bitesize Safeguarding Training Videos and Accompanying Slides – Cognus