Since Tracy Wooton (SEN Inclusion Coordinator Lead, KS4/5) started at Oaks Park High School in September 2021, she has made waves of change including introducing the Prince's Trust Award and Certificate in Employment, Teamwork and Community (ETC) Skills programme to the Horizon ASD Base's Key Stage 4 curriculum. School use an embedded approach to deliver the programme which has been implemented with the support of school staff and  Amber Burnett (Specialist Occupational Therapist, Cognus Therapies).
On 1 February 2022, Tracy and Amber were joined by Damian Thomas (Cognus Senior Therapy Assistant) and Julie Kiely (Cognus Therapies Assistant Team Manager) to help stage mock interviews for our Year 11 students as part of the 'Career Planning' unit of the Prince's Trust qualification.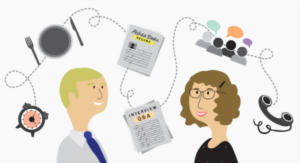 Prior to the mock interviews, the students had time to brainstorm interview skills, presentation techniques and practiced writing and answering interview questions within class and during therapy sessions. This activity supported them in achieving their targets in line with the Preparing for Adulthood agenda.  On the 'big day' of their mock interviews, all the students were ready and felt positive about taking part in interviews as a result of having the opportunity to prepare for them. 
The students really enjoyed the functional activities, equipping them with skills for their next stage in life. One student reported that the interview went well and identified that, "My question to the interviewers was well thought out and even made them laugh". While another student reported, "The interview helped me prepare for my own interview next week".  Each students was presented with a certificate following their successful interview. 
Cognus Therapies received positive feedback about this wonderful project: "Thank you so much for your hard work in organising [the interviews]. The students did an amazing job as did you. I look forward to working alongside you."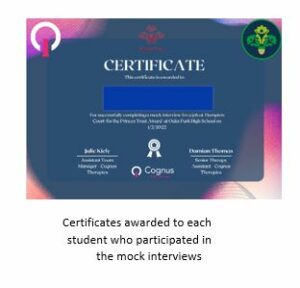 Amber is proud of all the hard work the Year 11's from Oaks Park High put into their interviews and is looking forward to continuing to work with Tracy and the staff team in the future.