On 13th July 2022, the Education Safeguarding Team held an End of Year Network Event, for Designated Safeguarding Leads, at Cantium House. The aim of the meeting was to provide an opportunity for DSLs to drop in and meet one another face-to-face, to share what has been working well and to discuss any challenges – with the hope of collaboratively finding solutions.  The Education Safeguarding Team were on hand to provide any support or guidance where needed.  The Designated Safeguarding Leads also had the chance to have a tour of our new offices!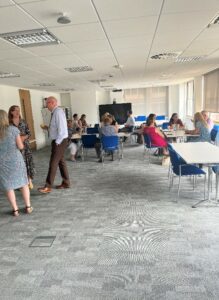 'It was great to be able to meet other DSLs and just talk.  I had so many questions that I feel have now been answered' (Secondary DSL, July 2022). 
 There were 22 attendees from Early Years, Primary, Secondary and Colleges. 
Representatives from the Educational Psychology Team, Virtual School and Police also came along to share their support. 
The event was another way for the Education Safeguarding Team to thank the DSLs for the work they have been doing over the past year and to further strengthen our network. 
'I attended the DSL Network meeting yesterday and just wanted to let you know how positive DSLs were about the support that they receive from the safeguarding team…The whole team really do go that extra mile and I wanted to recognise the huge impact that they are having, both to schools and the children and young people that we work with' (Virtual School, July 2022) 
Due to the positive feedback received, this will now become an annual event. The Education Safeguarding Team are currently busy preparing the Bitesize training materials on the changes to Keeping Children Safe in Education 2022, ready for schools to use during their INSET day in September. 
To view the Bitesize materials that are already available, please see below: 
Bitesize Safeguarding Training Videos and Accompanying Slides – Cognus