This half term, the HI service have been enjoying being back out on home visits.  Prior to this, we were only back in schools.  Being back in the homes, working with our babies and families, has been wonderful, feeling almost normal!  
It was super to see one of our almost 2 year old's, who had not been tolerating her hearing aids, now starting to wear them more!  Likewise, another 2 year old, chatting away and wearing his hearing aids all day, everyday while he awaits confirmation of approval for cochlear implants. Having a cuddle with a 6 week old baby, identified with a severe-profound loss. was the icing on the cake!  
These home intervention visits are vital for early language skills to be taught.  Early intervention is key to ensuring our HI children have the best start in life working hard to becoming school ready.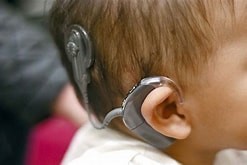 We are looking forward to another term, where each day, we seem to be approaching more normal and, of course, some warmer weather to keep us all upbeat.  
Sensory Impairment Support – Cognus