After a successful 9 months as interim Managing Director of Cognus, Joanna Cassey has now been appointed as permanent Managing Director. Cognus is owned by Sutton Council and provides 26 educational services to children, young people, families and professionals across Sutton.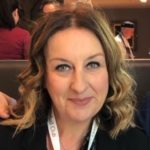 Jo's breadth of knowledge, experience and passion for education at a local and national level has been used to good effect in improving Cognus's local area offer in response to t
he needs of children, families and working closely with local area partners.
Over the last 9 months Jo has worked across the organisation to effect a range of key activities including: 
Leading Cognus to continue to deliver a range of services to families, schools, professionals and the local area amidst changing COVID-19 restrictions
and priorities. 

Focusing on ensuring children and young people continue to be at the heart of all of what Cognus does.

Prioritising parental engagement to drive standards, quality and communication, promoting collaboration and consultation.

Developing positive, effective working relationships with stakeholders and driving a culture of collaboration and partnership.

Supporting the organisation to embed a culture of care, quality and diversity for teams and individuals.

Negotiation of an extended contract with Sutton Council for a further three years and new contract specification.
Ian Comfort, Chair of Cognus said:
"I am pleased that Jo has agreed to take up the post of Managing Director of Cognus. She has proved to be a great strength to the organisation over the past months and has demonstrated sound leadership during the challenges of COVID. She has the unequivocal support of the Board as she takes Cognus forward with its ambition to develop and deliver outstanding services for children, families and schools in Sutton."
Joanna Cassey, Managing Director of Cognus said: 
"I am delighted to be appointed permanently at Cognus. The last 9 months have been both challenging and exceptionally rewarding professionally. Leading Cognus through the pandemic has brought about new and dynamic ways of working. During this time, the agreement by the London Borough of Sutton (LBS) to be 100% shareholders and our negotiation of the new contract has helped to strengthen our partnership working with the Council and the wider community even further. I am looking forward to continuing to work with colleagues at Cognus, LBS and throughout the borough to deliver fantastic services to better support children, young people and the families across Sutton."
Councillor Marian James, Chair of People Committee said:
"This is good news and I look forward to seeing how Jo can continue to lead Cognus with her permanent appointment. We know some children and young people have struggled to adapt to new and changing learning environments since the pandemic began, especially when they have additional or complex needs. Cognus's range of services will continue to help and support many of these children and families across Sutton and I am extremely grateful to Jo and the rest of the leadership team at Cognus for meeting this challenge with ambition, dynamism and care."