The Paving the Way Team delivered a summer African drumming workshop to children and young people who are currently waiting and working with the Paving the Way caseworkers. We collaborated with the Sutton Music Service and delivered the workshop for children aged between 5 and 11 years old.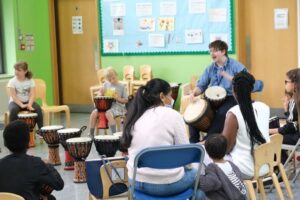 The aim of this session was to improve the children's self-esteem, confidence, and concentration, which are all skills that the Paving the Way Team encourage and support all children with, to build resilience, and achieve their full potential.
In the workshop, the children had the opportunity to learn the name of the African drum, the Djembe, the different sounds that could be made on the drum, different rhythms, and the children were able to use their creative flare through creating phrases and solos!
Feedback:
"I would definitely like more of these workshops!"
"I just wanted to let you know that C loved your drumming class you arranged with Sutton music services last Friday."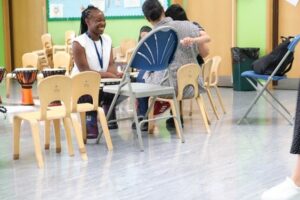 "Thank you for all the hard work it took to enable the session to happen."
 The workshop was a huge success and the teams will be working together on new projects in the future to reach out to more children in the borough using music to help them cope with various challenges.
Find out more about what Paving the Way offer here