Cognus' Paving the Way service is made up of a multi-disciplinary team. The team provides support for children and young people with a range of difficulties, including social communication, attention and concentration, and anxiety.
The Paving the Way service is made up of two elements: early intervention and identification.
Element 1: Early Intervention Service
This element of the Paving the Way is specifically for primary aged children attending a school in the London Borough of Sutton, aged between 5-11 years, and those transitioning into year 7. A menu of tailored services may include:
Individualised one-to-one sessions with the child
Targeted group work to develop resilience and reduce anxiety
Individualised one-to-one support for parents and carers which includes home visits and strategies
Advice, consultation meetings with the school, information giving and signposting useful information and resources
Screenings and reports for presenting neurodevelopmental difficulties. These may be assessed by Children's and Adolescent Mental Health Service (CAMHS) (See Element 2 below for further details)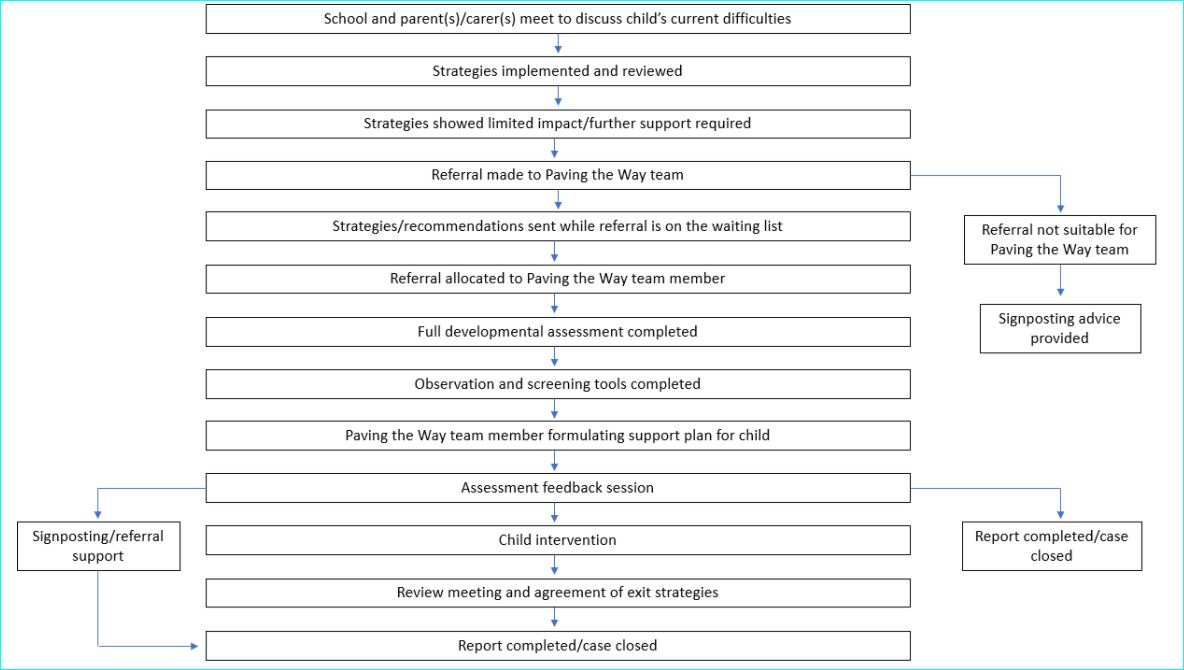 Please make use of all relevant information for advice prior to making a referral.
To make a referral, and to see the example referral form, please follow this link.
We also offer a range of additional traded bespoke services. Please email earlyintervention@cognus.org.uk for further details.
Element 2: Paving the Way Identification
This element of the Paving the Way service forms part of the CAMHS diagnostic pathway for autism.
The Identification service provides a community diagnostic service for children and young people whose prime need is thought to be autism.
Referrals to this service is made through either Paving the Way (Element 1) or CAMHS Single Point of Access (SPA).
Please note, referrals through this pathway must be for children and young people with a London Borough of Sutton GP only.
If you have any questions about Paving the Way, please call 020 8323 0450 or email earlyintervention@cognus.org.uk
Links and factsheets to support:
Government advice – Mental health resources for children, students, parents, carers and school/college staff
Sutton Uplift – Talking therapy for adults: https://www.suttonuplift.co.uk/
Off the Record – Free counselling service for children for young people aged between 11-18 years: https://www.talkofftherecord.org/sutton/counselling/
JigSaw4U – A charity that provides a wide variety of services across the London Boroughs of Sutton and Merton: https://www.jigsaw4u.org.uk/
Sutton Parents and Carers Forum – A group for parents and carers with children and young people with Special Educational Needs and Disabilities (SEND): https://www.suttonparentsforum.org.uk/