Cognus Therapies have had the pleasure of having two student Speech and Language Therapists from UEA at Foresters Primary School for 8 weeks! Katie and Grace reflect on their time with us: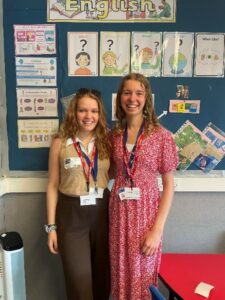 "We have had an amazing 8-week placement experience at Cognus. From day 1 everyone in the office and at the company was so w
elcoming.
We would like to give a special mention to Rose Fletcher, our placement educator who was brilliant. She allowed us to gain a full insight into
 what a day-to-day life as a Speech and Language Therapist is like and gave us so many different learning opportunities. We saw a range of children and young people with such a variety of needs, including autism, deafness and language disorders. These experiences have left us feeling equipped for the future, as practicing Speech and Language Therapists.
Everyone at Cognus was so supportive and always happy to help. We look forward to graduating and putting everything we have learnt from our time on placement into practice in the future. Thank you! Katie and Grace."
A huge thank you to Katie and Grace from UEA for their hard work and dedication to their placement this term. Good luck with the rest of your course and we hope to work with you both in the future!