Staff within Cognus supported a young person who had heightened anxiety, difficulties with friendships, expressing their feelings and understanding their autism diagnosis.
They knew a little about autism but weren't happy to share this with others.  They were experiencing meltdowns in the playground and school were struggling to find the best approach.
We carried out 5 sessions on a 121 basis, supporting the young person to better understand their autistic identity.
We used examples from the 'Autism, Identity and Me' workbook, such as the Neurodiversity Pencil Case: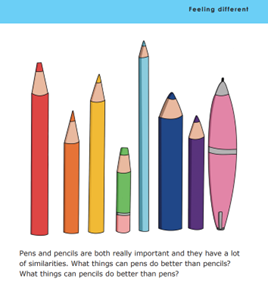 Autism, Identity and Me, Rebecca Duffus (2023)
https://www.routledge.com/Autism-Identity-and-Me/book-series/AIM10
We also used personal experiences to relate and identify differences within the autistic community.  The young person responded well to metaphorical play, where she was able to express something in the third person rather than through direct questioning.
We also used a range of sensory tools and the Zones of Regulation to ensure she was able to self-regulate, shared videos about autism to help her understand, used her interests and focused on strengths and ways to adapt to things we don't like to do.
The student then said she wanted to share her autistic identity with her class so she was supported with resources to use to go through with her teacher and her class.
Overall this was a positive outcome for the young person and her school, as she is now more self-aware and able to share her authentic self with her peers.