Sutton Music Service are thrilled to be relaunching our Community Choir at Sutton Central Library after a two-and-a-half-year hiatus due to the Covid-19 pandemic. Our inclusive vocal ensemble is open to everyone – there is no audition, and it is an excellent opportunity to learn new skills, meet new friends and have fun! 
"Music, and especially singing, has so many important benefits including lowering stress levels, improving mental and physical health, and providing an outlet for expression. Singing in a choir also provides a space to explore new repertoire, meet like-minded people and develop new skills such as sight-reading and general musicianship. I am delighted that, once again, we are able to offer this inclusive vocal ensemble for adults which will provide local singers with a high-quality vocal ensemble at the hub of the community." 
Emily Murphy, Senior Vocal Curriculum Leader 
Led by our experienced vocal tutor, Harry Heaven, the choir enjoy exploring music from various genres and singing in end of term concerts. The choir rehearses weekly at Sutton Central Library every Wednesday (term-time only) from 18.30-19.45.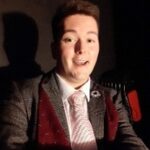 "I am looking forward to making music with people who are enthusiastic about singing. I really look forward to getting into rehearsals and having a chance to sing through some fun and varied repertoire. " 
Harry Heaven, Sutton Community Choir Conductor 
We are always looking for new members, and you are welcome to come and try a rehearsal before signing up. If you are interested in joining Sutton Community Choir, please contact us