As Refugee Awareness Week has passed, so has the #SuttonWalksToCalais challenge. Sutton Virtual School finished in style, completing in total, an amazing 418 miles! We definitely made it to Calais and were well on our way through Europe, past Belgium and into Germany where we 30 miles from Frankfurt! We may be small but our eight person Virtual School team is mighty, placing us third overall within the rankings, a phenomenal team effort. Collectively all teams walked, ran, cycled over 2600 miles and we raised an incredible £431 (+ est. £86.50 in Gift Aid) which will go to the Refugee Council so they can continue the work they do supporting asylum seeking young people.  
 Upon completing the challenge it is important to reflect on: 
            Was completing the challenge with others a motivation? 

            Did it make the challenge easier? 

            Did you feel as part of a collective or connection? 

            What was it like to have a shared experience with someone?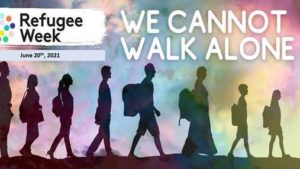 Many refugee young people under the care of Sutton have successfully complete their education in the UK and have gone on to further education and university courses with the support of Sutton Virtual School.  The Sutton Virtual School website now features the story of Musari  Muzel, a Sutton care leaver who talks about his journey in education that has led to a place at St George's University where he is studying to become a Therapeutic Radiologist.    
 #WeCannotWalkAlone