Recently, Rebecca Duffus carried out an Autism Friendly School Audit at St Philomena's RC Secondary School.  The school were keen to seek additional advice to find out how the could improve their provision for autistic students/those with social communication differences.
The Autism Friendly School Audit is a tool to assess the overall ethos of a school in relation to autistic students or those who may have social communication differences. The audit looks at a range of areas including:
Curriculum
Lesson planning
Social communication
Classrooms
Assessment
Staff training
Working with others
Parental views
Pupil voice
Social and emotional well-being
Unstructured times
Sensory
Rewards and sanctions
The purpose of the audit is to look at the provision already in place across the school, and provide recommendations for ways to further improve this.  This forms an Action Plan that the school then work on and an additional visit can be arranged to assess progress towards these actions.
As with all students, there is no 'one size fits all' in terms of the best provision for autistic students, so this audit is an opportunity for reflection and to further enhance the school's offer.
The audit process is as follows: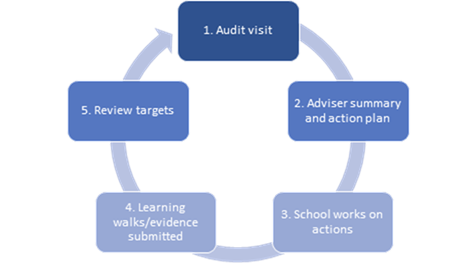 There will be a follow up visit in the new academic year, to reflect on the progress made towards the action plan.
For more information on the Autism service, please follow the links below:
Autism and Social Communication – For Families