"I wish I'd had Cognus as a placement in the beginning." Speech and Language Therapist student from City, University of London acknowledges the support that she has had from the Cognus Therapies Speech and Language Therapy Team this term.
Mica came to us from City University of London to complete her five-week university placement and had Tamara Rainsley (one of our Highly Specialist Speech and Language Therapists) as her placement educator, with support from Christine Silvester (Specialist Speech and Language Therapist). Mica's placement was so successful that she has asked to come back again.
At the end of her placement, Mica said, "I wanted to thank you for supporting me during this placement. You have been very supportive and have given me a whole
 new insight on become a speech and language therapist. Your suggestions and ideas have helped me immensely and I plan on using these ideas in my future career". 
We have recently received a certificate of thanks from the University of Reading for the support we have provided. Tamara, who acts as our Placement Coordinator, has worked closely with universities over the years, being part of their interview panels and supporting the development of the next generation of speech and language therapists.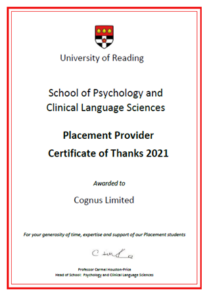 "On behalf of the Head of School, I would like to thank you for the generosity of your time and expertise in hosting our placement student(s) and for the ongoing supervision that has been offered. These placements provide invaluable opportunities and benefits to our students' academic and career progression and each year we are lucky to be able to watch participants grow as individuals and employees in equal measure. We appreciate your efforts and hope that you will continue to work in partnership with us to support future placement opportunities in 2021/22."
What a great way to encourage new therapists to become part of the Cognus family and provide them with the support, encouragement and access to the team's expertise.
The Therapies Team work with a huge number of children and young people in the local area developing their Speech and Language and Occupational therapy skills to support their access to education and prepare them for adulthood.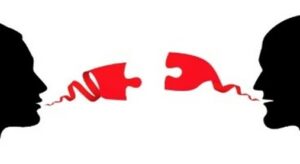 Read more about our Therapies Team and the work they do here