Read about some fun wheelchair sessions run by Whizz-Kidz at Sherwood Park School arranged by Ruby James, Occupational Therapist and Emily Porter, Senior Occupational Therapy Assistant for Cognus Therapies.
In September, Cognus Therapies at Sherwood Park School organised for Whizz-Kidz to deliver some wheelchair skills sessions to eight students.  The first session was an introductory session where learners completed a selection of obstacle courses and showed Lindsey (Whizz-Kidz rep) their individual driving skills!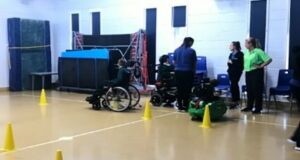 The students were supported by their Cognus Occupational Therapists and NHS Physiotherapists to ensure they were positioned correctly and motivated to complete the wheelchair skills session.

Three students from Sycamore class showed great skills, manoeuvring in and out of the cones and even testing themselves by completing the course backwards. Lindsey then set them a challenge of trying to 'park' in tricky situations by setting up parking spaces – which they completed with ease!
The rest of the group worked on driving round different cones and concentrating on 'Stop and Go'. Some students have recently started their wheelchair driving journey and seeing how their peers have learnt to drive was a huge encouragement to them. They really seemed to enjoy driving and there was lots of laughter and smiles.

During another visit from Whizz-Kidz, some of the students went off-site to practice and gain confidence in driving in the community. They worked on road safety, using pavements and ensuring they were driving at a sensible speed. During the session you could see the students starting to become more confident and aware of their surroundings. Students took advice and tips from Lindsey throughout the session, showed excellent navigational skills and were able to independently direct the staff and themselves to ASDA and then back to school.



It was a great way to develop independence skills in addition to being with their peers out and about in the community.

We look forward to working with Whizz-Kidz again who will be returning to deliver some employability skills to Sycamore class.
Find out more about our Therapies team here