Speech Language and Communication and Occupational Therapy Support
Who are we?
Cognus Therapies comprises of qualified Speech and Language Therapists, Occupational Therapists and Senior Therapy Assistants. We are a large and diverse team with a wealth of knowledge and experience in supporting children and young people with additional needs.
What we do
The team works with schools to identify and support children and young people with speech language and communication and occupational therapy needs.
How we work
Cognus Therapies offers a graduated approach to meeting the needs of all children and young people including those with special educational needs and disabilities (SEND), in line with the SEND Code of Practice.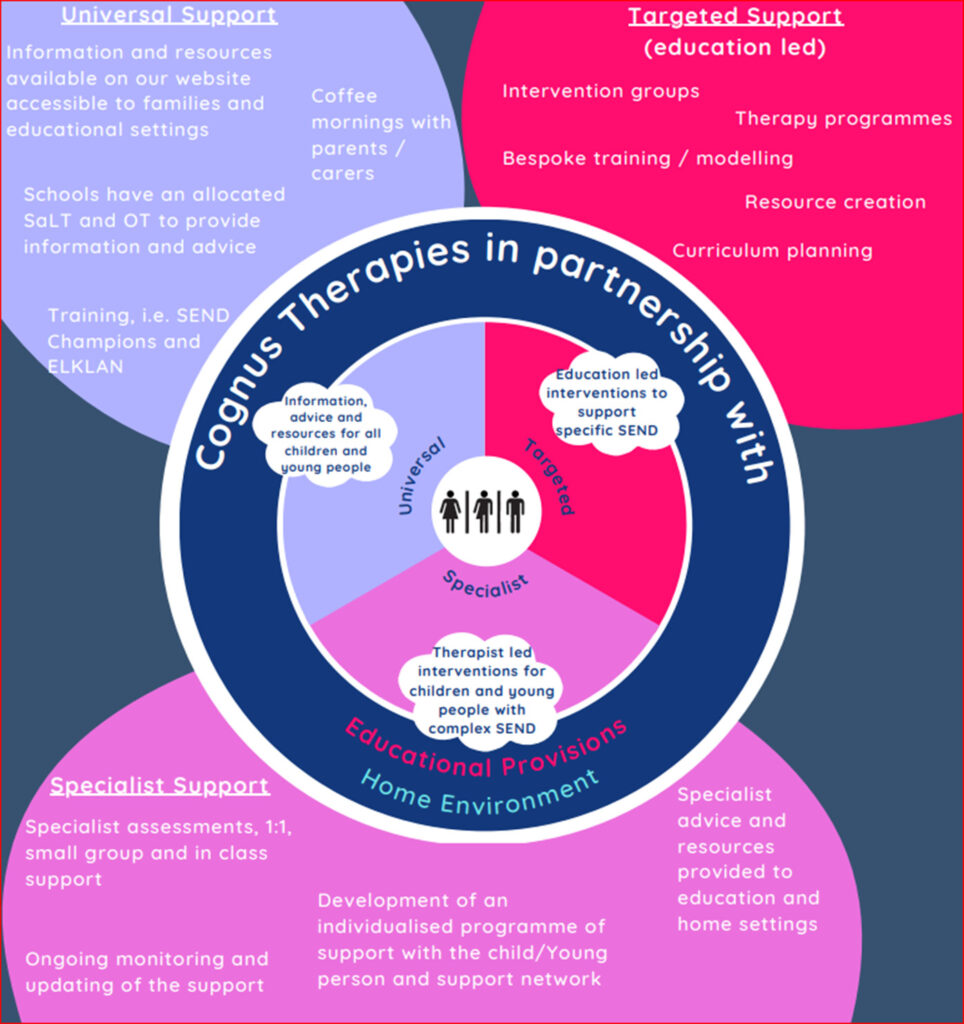 Download the Graduated Response for Education Based Therapeutic Support to find out more about Cognus Therapies Graduated Response. This is a working document and will be regularly updated by Cognus Therapies to ensure that it provides up-to-date and accurate information.
How we support schools and learning establishments
Prior to referral, schools and learning establishments are requested to screen a child or young person's language and communication and /or occupational therapy skills.
A child or young person will enter our service in one of two ways:

Via a referral from either a school/college through our traded offer. This may be from a professional (teacher, SENDCo, Sutton services) or from a family for a child or young person (aged 4 up to 25). Once we receive a referral, a member of the team will review it and then complete the assessment. 
As part of the Education Health and Care Plan Assessment process where an assessment is undertaken by one of the therapy teams.

Following the assessment, the therapist will recommend the level of support the child or young person would require. This support may be provided in individual/ group or whole class interventions provided by school/ college staff or therapists as part of the graduated response working model.
The therapist will set child centred outcomes as required, taking into account the child or young person and parental/carer views, to be supported through the graduated response model for an agreed period of time.
Staff qualifications and quality assurance
All Speech and Language and Occupational Therapists employed by Cognus Limited are fully qualified and registered with the Health Care Professionals Council (HCPC) and are qualified to the standards recognised by the Royal College of Speech and Language Therapists and Royal College of Occupational Therapists respectively. There is a statutory duty for therapists to engage in continuing professional development to maintain this registration.
The service provides supervision, training and quality assurance.